John Brueggen, of the St. Augustine Alligator Farm (SSAF) gave another outstanding presentation. This one highlighted his recent efforts to import crocodilians from 3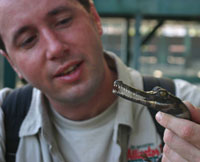 different continents. He was successful importing 2 from Australia, which is an accomplishment because anyone who has not been hiding under a rock knows that Australia is tough to get anything out of. One of the ones in this presentation is Maximo, the St. Augustine Alligator Farm's main attraction and largest croc on display there. The SAAF is the ONLY zoo in the world that is home to all 23 species of crocodilians!
The stories about these recent imports and attempts were very entertaining. Even the unsuccessful imports had great stories, such as when they went to Uganda to catch a large croc that was eating villagers.
John adds a "normal person" touch to his presentations. His presentation was not full of scientific jargon, but rather language that everyone, young and old can understand.
Whenever you are in St. Augustine, stop by the St. Augustine Alligator Farm and say hi to John. He is a man who loves his job and love to show off his "children."